This Ultimate Instant Pot Rice Guide will show you how to make white, brown, jasmine, basmati and a wild rice blend in your pressure cooker perfectly every time!  
What you need to make Instant Pot rice
Just as if you were making rice on the stove top, you need very few ingredients to make rice in your Instant Pot.
Rice – choose from white, brown, wild blend, jasmine or basmati
Water or broth – use broth and omit the salt for more flavour
Olive oil – you can also use canola oil but I wouldn't recommend butter as it can clog the release valve
Salt – this is optional for seasoning
How to cook Instant Pot rice
Your Instant Pot does most of the work for making perfect rice. It's pretty much a set and forget it process!
Start with a little oil in the bottom of the pot. This cuts down on the amount of foam that will be produced and will prevent sticking.
Add the rice, water and salt, making sure that the rice is submerged underneath the water. Do not stir though, as this can cause burning on the bottom.
The amount of time you cook the rice for will depend on the type of rice you use. After it has cooked, let the pressure release naturally. Don't be tempted to do a quick release!
Fluff the rice with a fork before serving.
Varying cooking times for rice
The time it takes to cook rice depends on the variety of rice you want to use.
Jasmine rice will only take three minutes to cook. Jasmine is a short grain white rice, moist, soft and slightly sticky when cooked.
Long grain white rice will be cooked in five minutes in an Instant Pot. This rice is the most common and recognizable in western stores. It is mild and fluffy when cooked. White basmati rice is a form of long grain white rice. The grains do not stick together like jasmine rice. Its nutty taste is popular in Indian and Asian recipes.
Long grain brown rice takes longer to cook, about 25 minutes. The layers of bran, which are nutritious, are left on the rice grain. This takes much longer to soften. Brown rice is a whole grain food with none of the vitamins and minerals stripped away. It has a chewy texture and the grains do not stick together.
Wild rice blend also takes 25 minutes to cook because it contains wild rice. Wild rice is not actually a rice, but rather a type of grass with a very tough texture. It's a great source of B vitamins.
Manual button vs. rice button
Your Instant Pot has a rice button, but that is programmed for cooking white rice only. You will need to adjust the time up or down if you are making any other kind of rice.
Why a natural pressure release?
A natural pressure release means that you don't need to do anything to the Instant Pot. Once it is done with the cook time, just allow it to slowly come back to a pressure in which you can open the lid. You will know the rice is done when the floating valve on top drops down and you can easily open the lid.
The liquid in the cooked rice is foamy. That foam can shoot through the release valve of the Instant Pot if you use a quick release – this is especially true if you used butter!
Using a natural release lets the cooking process stop slowly. The rice continues to cook through the release. If you use a quick release, you may end up with undercooked rice.
Water to rice ratio
When cooking rice on the stove top, you use more water than rice. However, in the Instant Pot, you will use a one-to-one ratio.  The Instant Pot provides a much tighter seal than any other pan so you will not lose water while it is boiling.
You don't need to worry about adding excess water because the water will not evaporate in the Instant Pot as it would on the stovetop or in a rice cooker. Keep with a 1:1 ratio for perfectly cooked rice – it's so easy!
Do you have to rinse the rice first?
You do not need to give your rice a quick rinse before cooking it. Some say this gets rid of all the extra starch that clings to the rice, and removing that starch will help your rice stay fluffy. However, this is NOT true!
You can choose to rinse your rice ahead of time, but it will turn out perfectly without rinsing and have no extra starch or difference in taste or texture. Save yourself some time and hassle by adding your rice to the pot when it's dry.

Storing and reheating rice
Cooked rice can be stored in the refrigerator for up to five days.
Because you can make very large batches in your Instant Pot, you can double, triple or quadruple this recipe – no need to adjust the cooking time either! Just make sure you have a large enough Instant Pot for the job and that what you've added to the pot does not go past the fill line. Cook once and you'll have rice for the whole week.
When you reheat the rice, add an extra tablespoon of water for every cup of rice. You can heat it in the microwave for about three minutes.
Can you freeze cooked rice?
Cooked rice can be stored in the freezer for up to two to three months. Be sure that the container you use has an airtight seal. I prefer glass containers because they can go straight into the microwave to reheat.
To thaw, you can leave the container in the refrigerator for 12 hours. If you need it sooner, you can thaw rice in the microwave. Again, add water to the bowl so it does not dry out the rice. Stir it every two minutes until it is warm – usually rice takes 6-7 minutes of reheating time from frozen when you have stored it in individual portions.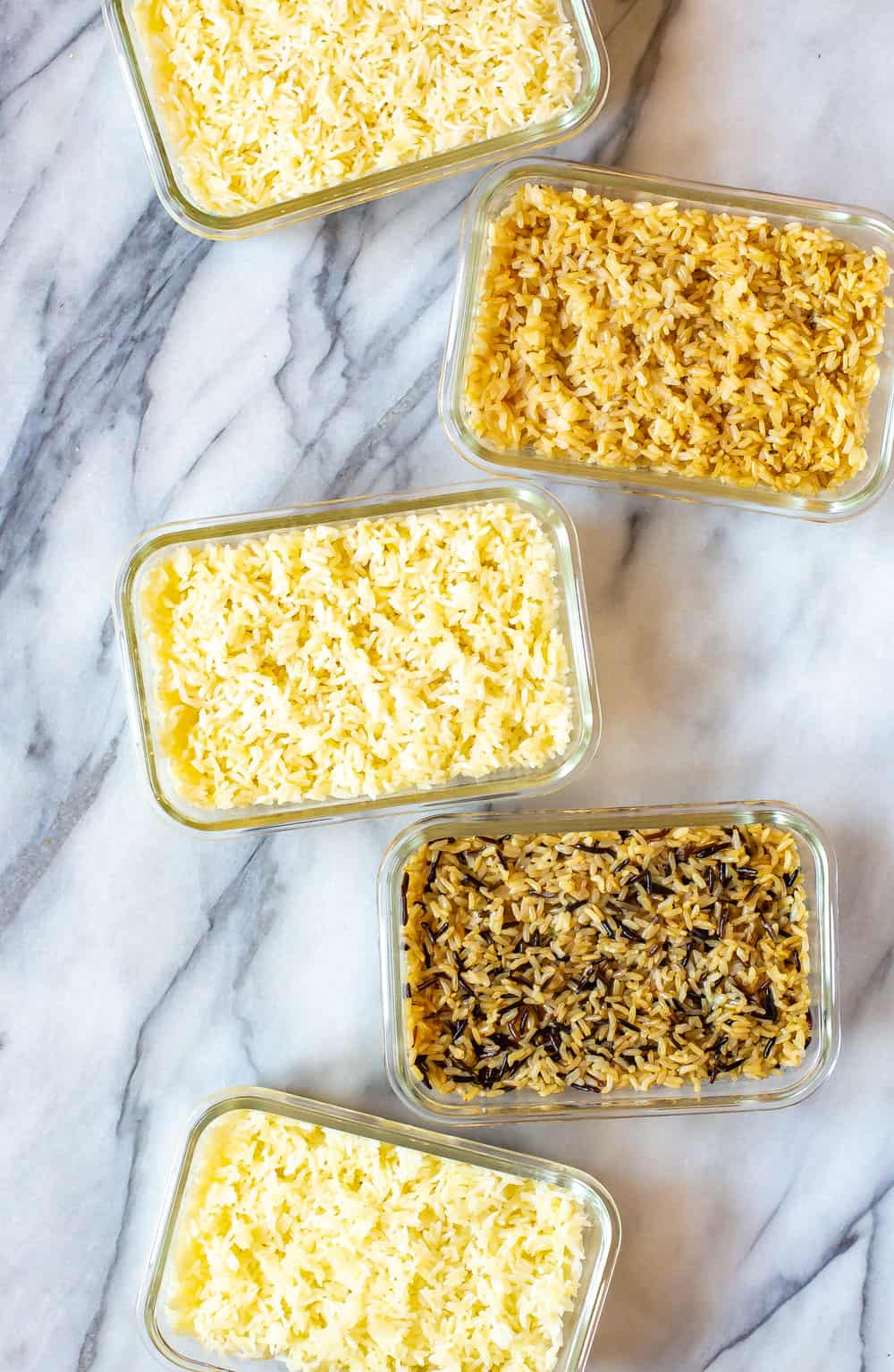 What to serve with rice
Rice is a staple of most diets in the world. It is versatile and delicious. And it pairs great with any number of other foods. Try it with these recipes:
Other Instant Pot rice recipes
Meal prep tools for this recipe
Instant Pot resources
If you'd like some more help with your Instant Pot, then you'll love my free resources! Sign up for free below when you get my weekly newsletter:
Ultimate Instant Pot Rice Guide
This Ultimate Instant Pot Rice Guide will show you how to make white, brown, jasmine, basmati and a wild rice blend in your pressure cooker perfectly every time!
Print
Pin
Ingredients
1

cup

water or chicken broth

1

cup

rice of choice (can use basmati, jasmine, white, brown or wild rice blend)

1

tbsp

olive oil

1

pinch

salt
Instructions
Add olive oil to the bottom of the pot, then add rice, salt and water or broth (choose broth for more flavour). Place lid on Instant Pot and make sure valve is set to seal.

Press the pressure cook button and set to high, then cook for the applicable times listed below. Instant Pot will take about 5-10 minutes to come to pressure then pressure cook for whatever time you have set it for.

Allow the pressure to release naturally (about 15-20 minutes), then open the lid when pressure gauge has dropped and the lid opens easily. Fluff rice with a fork and immediately remove it from the pot to prevent overcooking.

Rice will last in the fridge up to 5 days, and cooked rice can be frozen up to 2 months.
COOK TIMES FOR EACH TYPE OF RICE.
Long grain white rice: 5 minutes.

White basmati rice: 5 minutes.

Long grain brown rice: 25 minutes.

Wild rice blend: 25 minutes.
Video
Nutrition
Calories:
200
kcal
|
Carbohydrates:
37
g
|
Protein:
3
g
|
Fat:
4
g
|
Saturated Fat:
1
g
|
Sodium:
12
mg
|
Potassium:
53
mg
|
Fiber:
1
g
|
Sugar:
1
g
|
Calcium:
13
mg
|
Iron:
0.4
mg