Learn how to use your Instant Pot as a slow cooker! Master your instant pot slow cooker settings with this simple guide.
The Ultimate Guide to Using an Instant Pot as a Slow Cooker
If you're a proud owner of an Instant Pot, you probably know just how versatile this kitchen appliance can be. While it's famous for its pressure cooking capabilities, it can also function as a fantastic slow cooker.
That's right, the Instant Pot can do it all! In this ultimate guide, we'll show you how to use your Instant Pot as a slow cooker to create delicious, no-fuss meals.
Why Use Your Instant Pot as a Slow Cooker?
There are a few different reasons that you may opt to use an Instant Pot to do your slow cooking as opposed to a traditional crockpot:
Time-saving: Slow cooking typically requires a separate slow cooker, but your Instant Pot can take on this role as well, saving you precious kitchen space and cleaning time.
Versatility: You can prepare a wide range of dishes, from hearty stews to tender roasts, using the slow cooker function.
Consistency: The Instant Pot's precise temperature control ensures even cooking and tender results.
Multi-functionality: If you're short on kitchen gadgets, your Instant Pot's ability to slow cook, pressure cook, sauté, and more can be a game-changer.
Getting Started
Before you dive into slow cooking with your Instant Pot, here are a few essential steps to get you started:
Read the Manual: The Instant Pot's manual is your best friend when learning to use the slow cooker function. Familiarize yourself with the appliance's controls and safety guidelines.
Gather the Right Accessories: You may need additional accessories like a glass lid (for slow cooking), a trivet (for elevating dishes), or silicone liners (for easy cleanup).
Choose the Right Recipe: Almost any slow cooker recipe can be adapted for your Instant Pot. Simply follow the same time and temperature guidelines, and you'll have delicious results.
The Slow Cooking Process
Select the Slow Cook Function: Press the "Slow Cook" button on your Instant Pot. The appliance will default to the "Normal" temperature setting, which is equivalent to a typical slow cooker's low setting.
Adjust the Temperature: Depending on your recipe, you can change the temperature to "Low," "Normal," or "High." Most slow cooker recipes use the "Low" setting for gentle, all-day cooking.
Set the Cooking Time: Choose the desired cooking time. Slow cooker recipes usually have a broad time range, so feel free to adapt it according to your schedule.
Cover the Pot: If you don't already have a glass lid, you can use aluminum foil to cover the Instant Pot to retain moisture and heat.
Let It Cook: Once you've set the temperature and time, let your Instant Pot do the rest. You can check the progress through the glass lid, but avoid opening it too frequently to maintain an even temperature.
Tips for Successful Slow Cooking
Here are some tips and tricks to get the most out of your Instant Pot's slow cooking function.
Plan Ahead: Slow cooking takes time, so plan your meals in advance. You can prepare ingredients the night before and set the Instant Pot to start cooking when you're away.
Use the Right Amount of Liquid: Slow cooking can evaporate liquid more slowly than other methods, so adjust your recipe accordingly. You may need to reduce the amount of liquid you'd use in a traditional slow cooker recipe.
Don't Overfill: Avoid overfilling your Instant Pot. Leave some space for ingredients to expand as they cook.
Add Delicate Ingredients Later: If you have delicate ingredients like fresh herbs or dairy, add them near the end of the cooking time to maintain their flavours and textures.
Experiment and Adapt: Slow cooking is all about personal taste. Don't be afraid to adjust temperatures and cooking times to perfect your favourite recipes.
Frequently Asked Questions
Do I seal the Instant Pot when slow cooking?
You do not need to seal your Instant Pot if you're slow cooking in it. Instead, I'd recommend ditching the regular lid entirely and using a tempered glass lid so some steam can escape while it's cooking.
Can you leave an Instant Pot on the slow cook function all night?
If you are slow cooking in the Instant Pot, you should be able to leave your dish cooking overnight for as long as the recipe dictates. Anything that calls for 8 hours cooking time should be sufficient as long as you make sure you're up in time to take it out of the slow cooker once it's finished.
What temperature does the Instant Pot cook on slow cook?
This all depends on what Instant Pot slow cooking setting you use. The normal setting is 200℉, low/less is 170℉ and high/more is 210℉. A traditional crockpot will typically reach temperatures of 200℉ on its low setting and 225-275℉ on its high setting.
Slow Cooker Recipes to Try
Here are a few of my favourite slow cooker recipes to try in your Instant Pot! Follow the steps above to learn how to adapt them to your specific pressure cooker's model.
This Slow Cooker African-Inspired Peanut Stew is a hearty, savoury chickpea and sweet potato curry, served with basmati rice and topped with cilantro. It's also gluten-free and vegan!
Make this recipe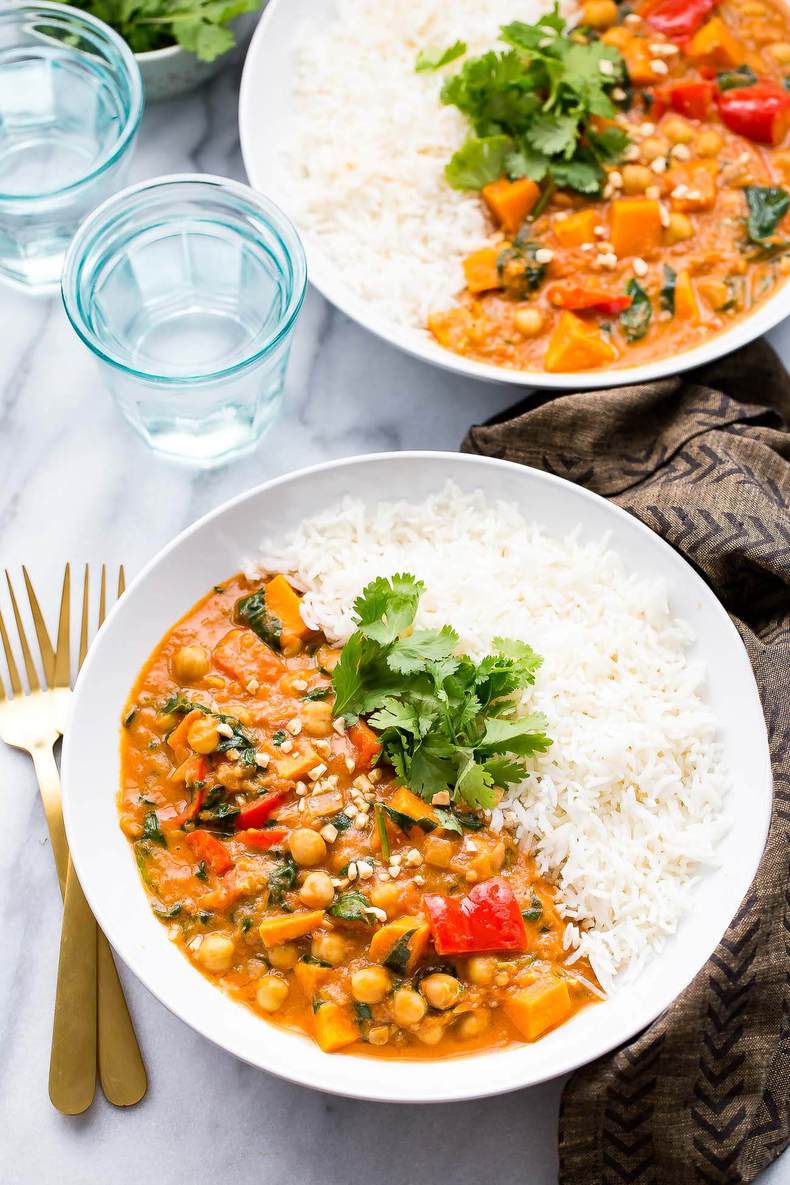 These Honey-Garlic BBQ Crockpot Meatballs are the perfect appetizer idea and come together with less than 10 ingredients – they're also great for meal prep!
Make this recipe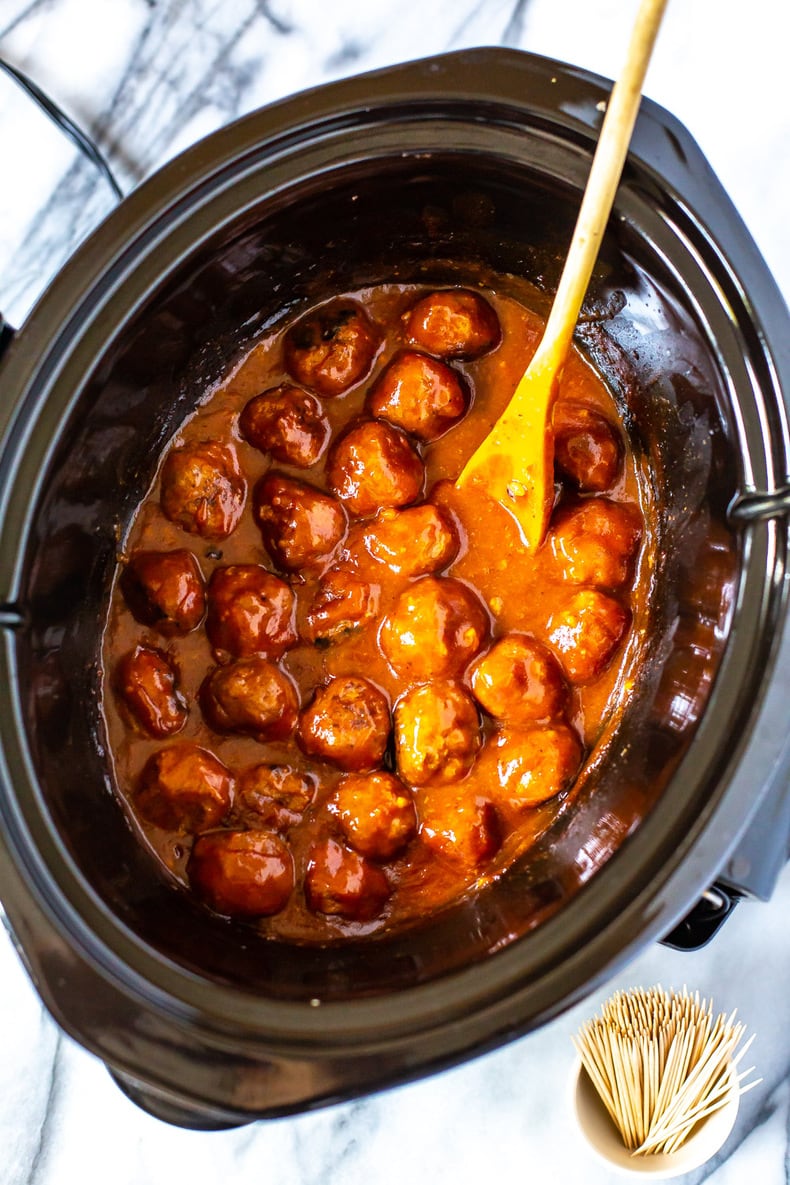 The Hearty Chickpea Soup is the perfect vegetarian lunch for winter. It has pasta, parmesan, Italian seasoning and spinach in it.
Make this recipe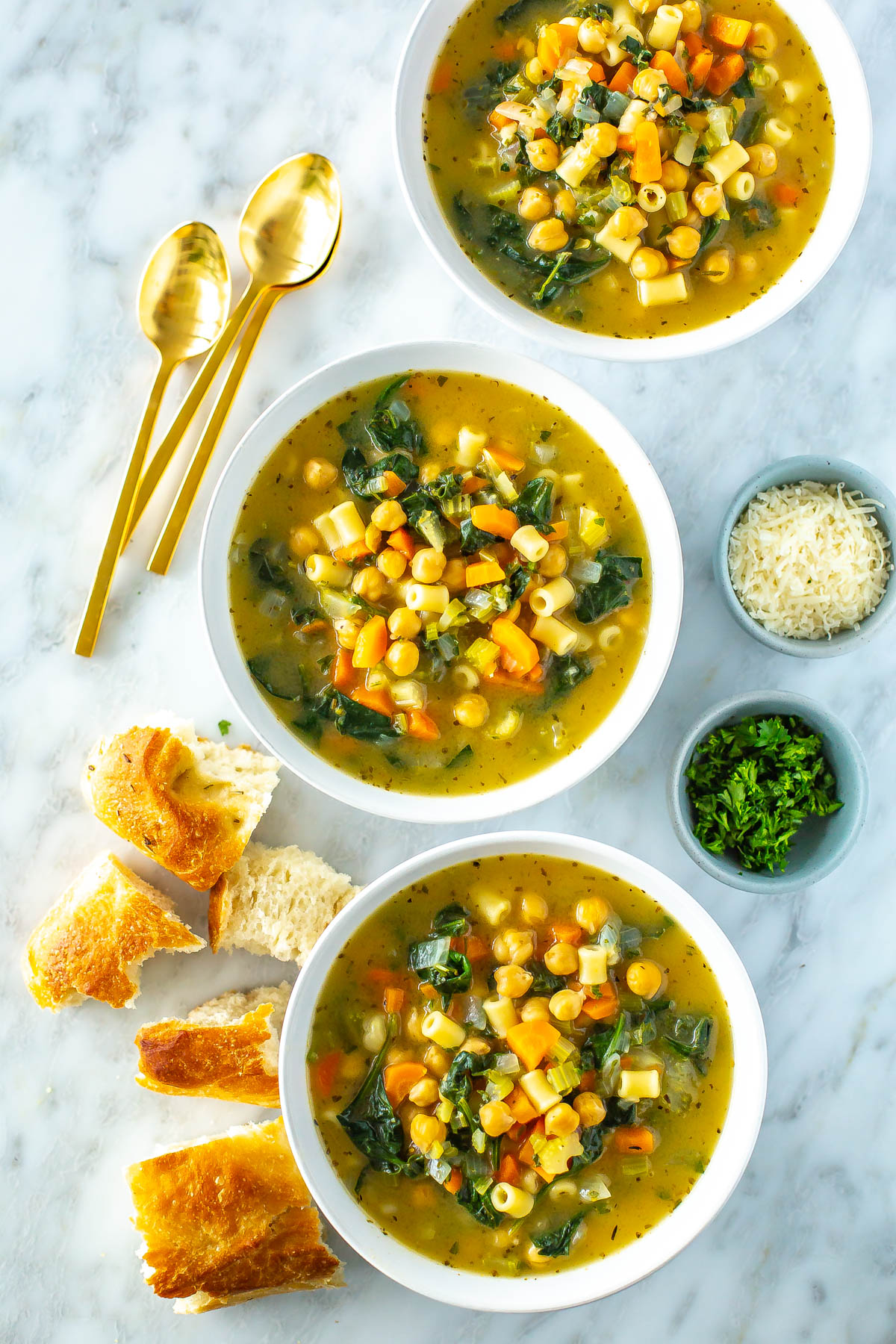 These Crockpot Chicken Tacos with Pineapple Salsa are a fun, easy way to meal prep for the week and the Mexican-inspired pulled chicken is so versatile – it can be used for tacos, burrito bowls, salads and more!
Make this recipe
This Slow Cooker Tuscan Sausage and Kale Soup is a hearty, veggie-filled comfort food option for cold days – just dump it all in the crockpot then set it and forget it!
Make this recipe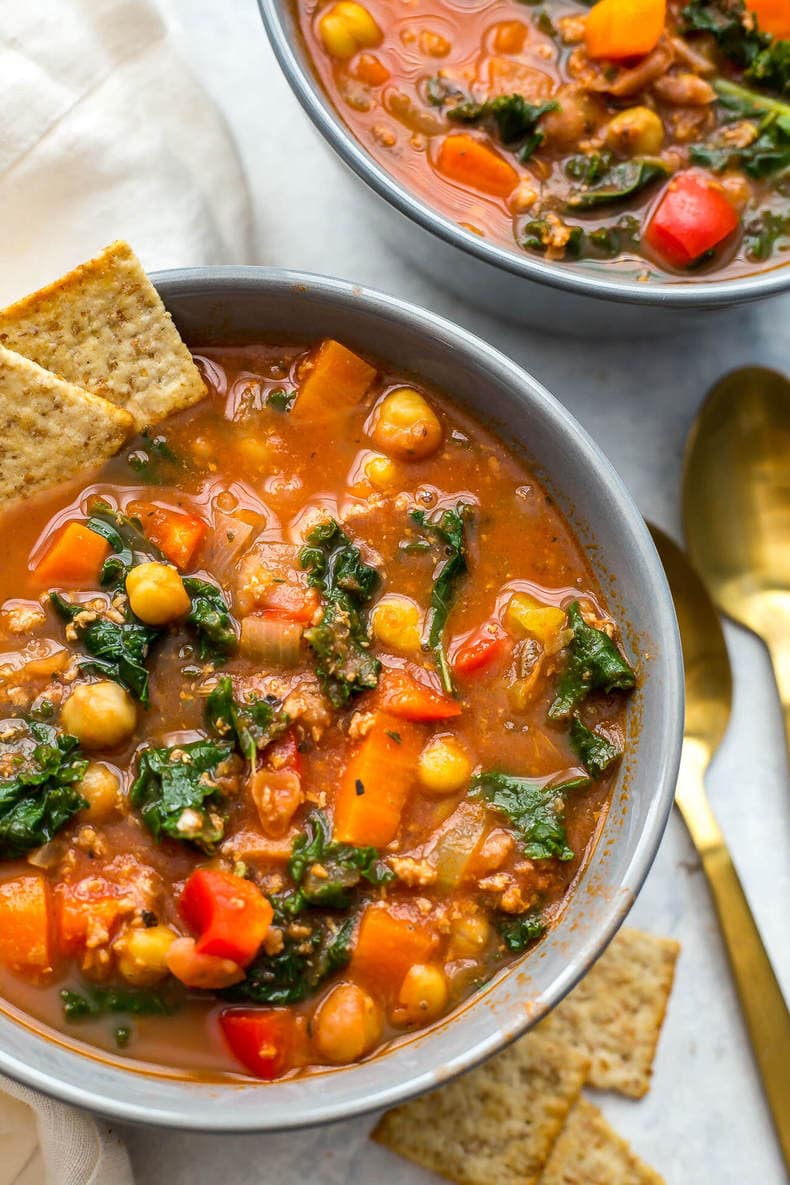 This Crock Pot Vegetarian Lentil Chili with sweet potatoes is a healthy spin on comfort food – it's the perfect hands-off dump dinner! 
Make this recipe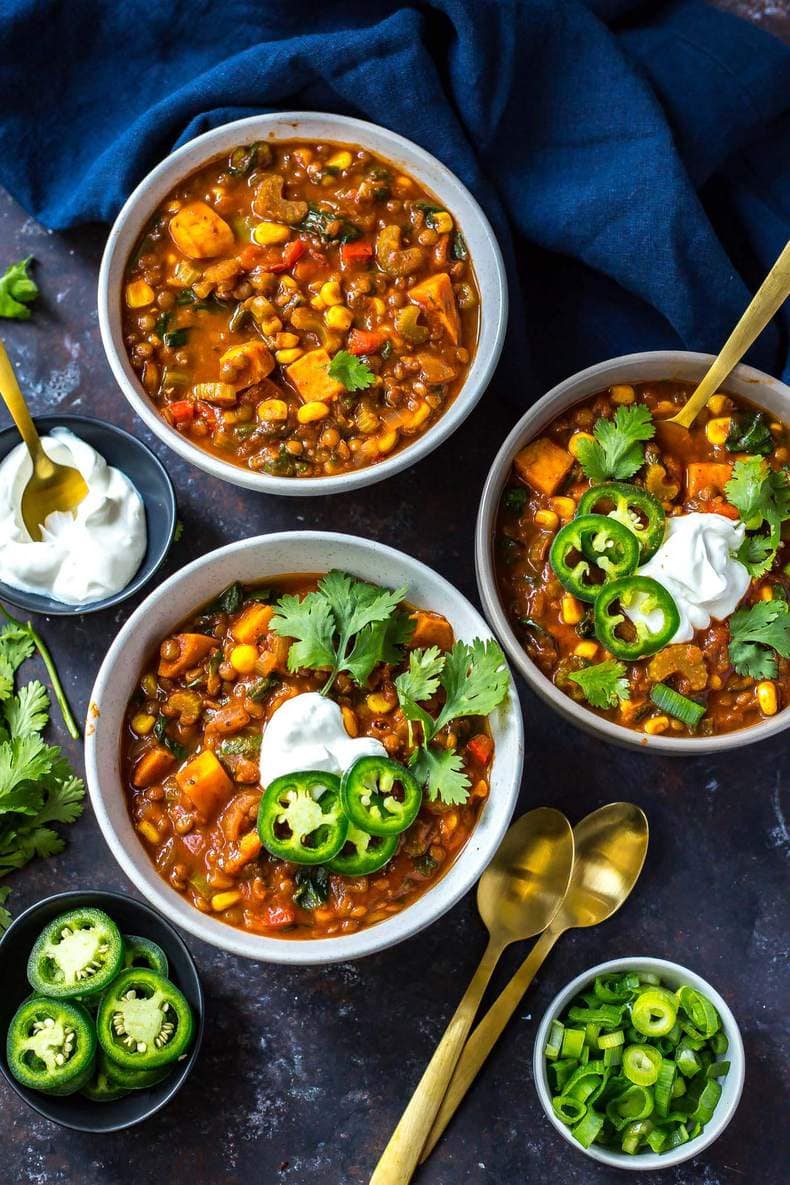 These Shredded Beef Tacos are so tender and delicious! Make them in the slow cooker, Instant Pot or on the stove for an easy weeknight meal.
Make this recipe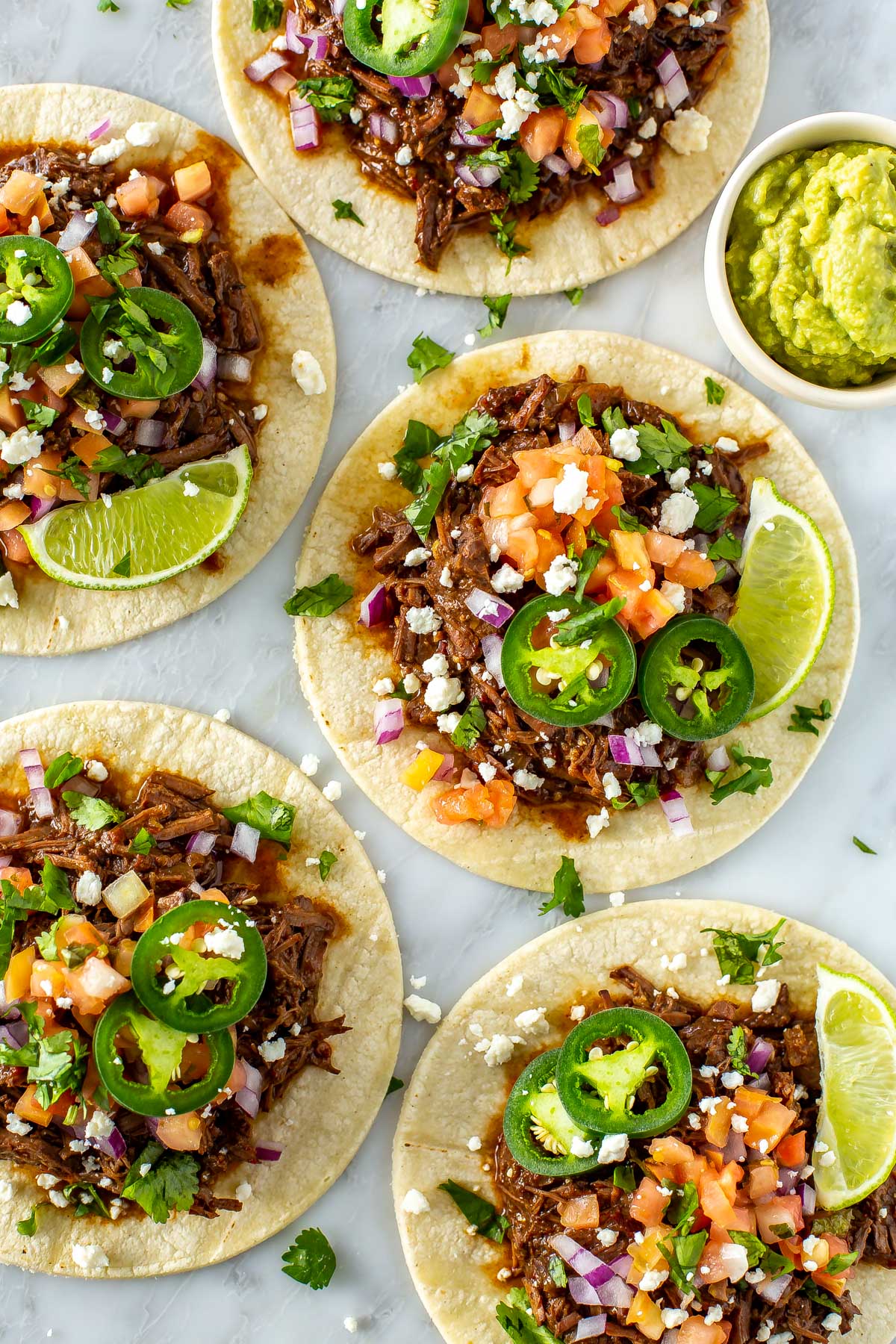 This Crockpot Vegetable Soup is so delicious! It's made easily in the slow cooker with fire roasted tomatoes, lentils, and a mix of veggies.
Make this recipe