This is the easiest ever Frozen Chicken in the Instant Pot – just add your frozen chicken breasts and cook for 20 minutes on high pressure!  
Seasoning for Instant Pot frozen chicken
For my standard frozen chicken breast Instant Pot recipe, I use this seasoning:
Paprika
Onion powder
Garlic powder
Salt
Pepper
This recipe will give you chicken that has flavor, but is not overpowering. If you know you are using the chicken in a specific dish, you can season the chicken to match that particular diash instead of using my suggestions.
If your goal is to have prepared chicken ready at all times to add protein to a meal, use this basic seasoning recipe and your chicken will go with anything.
How to make frozen chicken in the Instant Pot
Forgetting to thaw your meat the night before isn't a problem when you are using an Instant Pot.
You cannot put frozen chicken breast in a slow cooker because it cooks so slowly. The meat will stay in an unsafe temperature range for too long and risks developing dangerous bacteria.
However, in the Instant Pot, it heats very quickly. The entire process takes a shorter amount of time than cooking on the stove top or oven. That means you can put frozen meat directly in the Instant Pot.
Add the chicken, water and seasoning to the Instant Pot.
Set the Instant Pot to cook for 20 minutes.
Let the pressure release naturally. In other words, you don't have to do anything at all to the pot until it has released the pressure and allows you to open the lid.
Slice or shred your chicken as desired.
It's an easy and hands-off way to go from frozen chicken to meal-ready protein in a short amount of time!
Can you double this recipe?
You can absolutely double (or even triple!) this recipe.
The ingredients listed here are for one pound of boneless, skinless chicken breasts.
Instant Pots come in four sizes: three, five, six and eight quarts. The Instant Pot should never be more than two-thirds of the way full. Because there is so much pressure inside the pot while cooking, it needs space for expansion.
The important thing to remember when you double Instant Pot recipes is that you DO NOT need to double the cooking time. Double the ingredients, but not the time. It will take longer for the Instant Pot to come to pressure and to naturally release, but not longer to cook.
The only reason you need to increase your cooking time is if your chicken breasts are much thicker than normal. Then it will take longer to cook the frozen chicken breasts in the Instant Pot.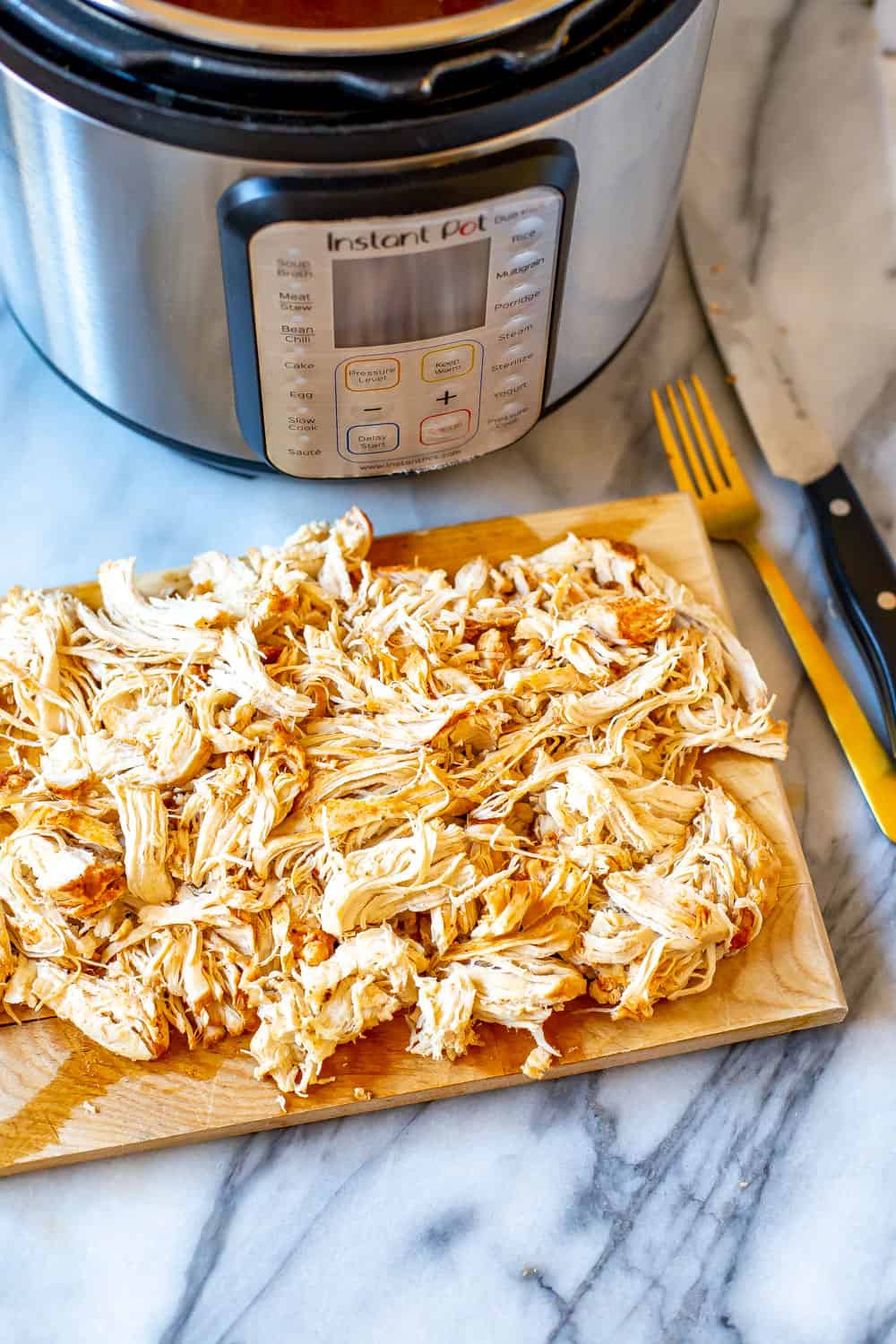 Slicing vs. shredding
If you plan to slice your Instant Pot frozen chicken breasts, perform a quick release of the pressure when the cooking time finishes. Remove the chicken from the pot and slice against the grain of the breast.
If you want to shred the chicken breast, allow the pressure to release naturally. This gives it more cooking time. Remove it from the pot and shred it with two forks or with a knife and fork. It will fall apart super easily and be really tender this way – you almost won't even need to shred it!
Ways to serve Instant Pot chicken
Now that you have a quick and easy method of cooking frozen chicken breasts in the Instant Pot, you can make your meal prep even easier. Having big batches of chicken already prepared will cut down on the amount of time it takes you to make any meal.
You can easily add protein to your lunch dish.
Keep chicken cooked and ready for any of these meal ideas:
Salads
Sandwiches
Pizzas
Tacos
Pasta bakes
Enchiladas
Nachos
Soup
Chili
Storing and reheating the chicken
Instant Pot frozen chicken breast will last in the refrigerator for five days after it is cooked.
This means that you can use this short cut idea for meal prep. Cook 4-5 days' worth of chicken for lunches and dinners, and that will eliminate the need to cook a protein every evening.
You can reheat cooked chicken breast in the microwave or oven – just be sure to sprinkle a little bit of water overtop before reheating to avoid that leftover chicken taste. If you add the chicken to a soup, it can heat in the soup. You can also pan fry it with additional seasonings to match the meal you plan to serve it with, such as chili powder for tacos.
Just remember that you should only reheat cooked chicken once.
Can you freeze the cooked chicken?
Yes, you can freeze this cooked chicken. Once it is cooked and cooled, store it in an airtight container. This way it will last for three months.
To thaw, let it sit in the refrigerator overnight.
The same rule applies, however. Once you have reheated the Instant Pot frozen chicken breast once, you need to discard any leftovers.
More Instant Pot chicken recipes
Meal prep tools for this recipe
Instant Pot Frozen Chicken Breasts
This is the easiest ever Frozen Chicken in the Instant Pot - just add your frozen chicken breasts and cook for 20 minutes on high pressure!
Print
Pin
Ingredients
1

tbsp

olive oil

4

cups

water

1

lb

frozen chicken breasts

2

tsp

paprika

2

tsp

onion powder

2

tsp

garlic powder

1

tsp

salt

1/2

tsp

pepper
Instructions
Add all ingredients to Instant Pot in the order in which they are listed. Press the pressure cook button and select the high setting, then set to cook for 20 minutes.

Instant Pot will take about 10-15 minutes to preheat then the 20 minutes to pressure cook.

Let the pressure naturally release once chicken has finished cooking (should take 15-20 min), then open lid when safe to do so.

Remove chicken from Instant Pot, discard water, then slice each breast with a fork and knife if desired. Serve and enjoy!
Video
Nutrition
Calories:
172
kcal
|
Carbohydrates:
3
g
|
Protein:
25
g
|
Fat:
7
g
|
Saturated Fat:
1
g
|
Cholesterol:
73
mg
|
Sodium:
728
mg
|
Potassium:
470
mg
|
Fiber:
1
g
|
Sugar:
1
g
|
Vitamin A:
527
IU
|
Vitamin C:
2
mg
|
Calcium:
17
mg
|
Iron:
1
mg