This Best Ever Instant Pot Breakfast Casserole is the EASIEST way to make breakfast in your Instant Pot – hash browns, bacon, peppers and all!  
Is this Instant Pot breakfast healthy?
Loaded with eggs and vegetables, this breakfast casserole is full of healthy nutrients, making it the perfect way to start your day.
Eggs offer many benefits, including:
Bell peppers also offer a lot of great nutrition and are considered one of the best vegetables to eat. Did you know that one serving of green bell pepper provides nearly 200% of your suggested daily intake of Vitamin C? And a red bell pepper has almost twice that amount!
Equipment needed for this recipe
Here's what you need to make this breakfast casserole:
Do I need a special baking pan for my Instant Pot?
You don't need a special baking pan to make this Instant Pot recipe. Simply use one of the baking pans you already have. Just be sure that it's the right size to fit inside your Instant Pot and that it is "oven safe". You will need a silicone or metal trivet to keep the pan off of the bottom of the Instant Pot.
I used a 6×4 cake pan that is deeper than it is wide and it fit perfectly inside my 6 quart Instant Pot. With the exception of the Instant Pot mini, this type of cake pan (find it here) should be able to fit inside most Instant Pots.
How do I keep the breakfast casserole from sticking to the pan?
This is a tricky one! I used a non-stick cake pan and then added a generous coating of cooking spray before adding my ingredients. This is your best bet to prevent sticking. I would also avoid stirring your ingredients once they are in the pan otherwise you run the risk of sticking since you're wiping the greasy coating off.
You can always toss your ingredients together in a large bowl so they are evenly distributed then add to the cake pan and pour the egg mixture in. This is the best way to prevent sticking!
Getting the casserole out of the pan
Again, this can be tricky! My suggestion is to cut the breakfast casserole into slices (I usually do four or eight slices), then turn the casserole upside down and gently tap it to get the casserole slices out.
This can sometimes be a messy process and if you don't mind the appearance, you can also just scoop out portions with a large spoon. This is usually how I do it because I just meal prep for myself and eat individual portions all week long, but try the upside down method if you want it to retain a certain appearance for guests.
How to make Instant Pot breakfast casserole (step-by-step)
This breakfast casserole is SO easy to make and the most delicious breakfast ever! Here's how to make it:
If using, cook your bacon in a frying pan, then crumble it up.
Spray your cake pan with cooking spray (spray it well!). Add 1 cup of water to the bottom of your Instant Pot, then place the trivet, then the cake pan.
Mix your eggs together in a large bowl with salt & pepper.
Layer in your fillings to the cake pan.
Pour the egg overtop.
Pressure cook for 25 minutes, then let pressure release naturally.
Remove cake pan with oven mitts then slice up into individual portions.
Turn cake pan upside down and tap it to get out the slices.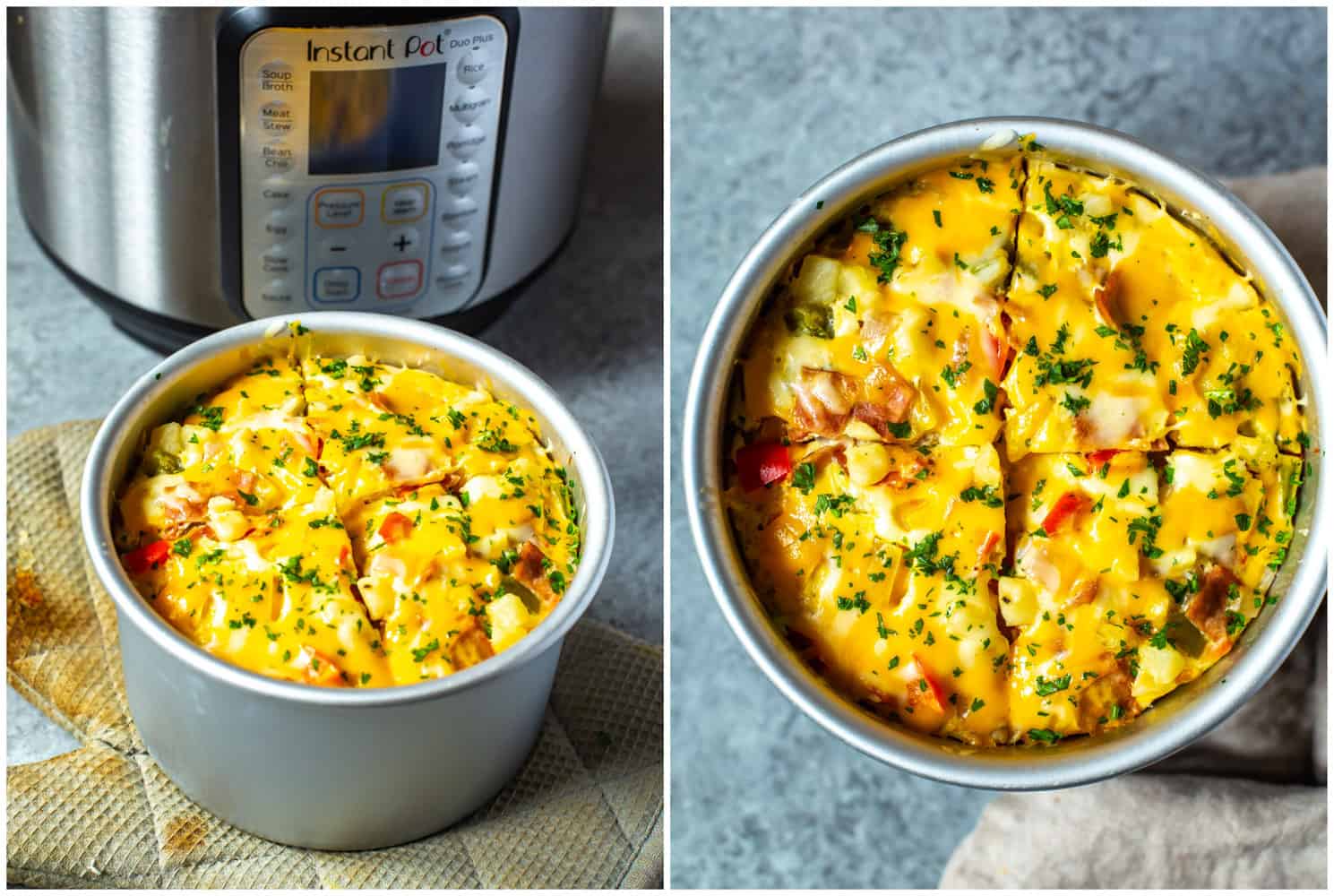 Ingredients and substitutions
This breakfast casserole is pretty healthy with the bell peppers and onion, but to make it healthier, consider substituting the bacon with a lean meat like turkey bacon, deli turkey or ham. Or, skip the meat altogether and add in other vegetables for a vegetarian breakfast casserole.
I love the flavour that the shredded cheddar cheese adds, but you can omit the cheese to cut calories – this will also make the casserole last longer in the fridge without turning slimy.
Finally, you can leave the hash browns out to save on calories and carbs too. All you really need are a mixture of veggies to make this Instant Pot breakfast casserole!
Can Instant Pot breakfast casserole be frozen?
If you won't be eating any leftover casserole within three days, then freezing it is a great option. Divide the casserole into single or family-sized servings and store them in meal prep containers or plastic freezer bags.
A cooked breakfast casserole can be kept in the freezer for up to two months.
How do I reheat a frozen casserole?
Thaw the frozen breakfast casserole in the refrigerator overnight (or use the defrost option of your microwave for a faster thaw). Bake at 350ºF for about 20 minutes or until the casserole is heated through.
You can also reheat frozen single portions in the microwave for 5-6 minutes.
Can I make this recipe ahead of time and freeze it?
Yes! This breakfast casserole recipe would be great to have in your freezer for those busy days when you don't have time to create a meal from scratch. A breakfast casserole also works well for dinner, or if you plan on having people drop by for a weekend brunch.
Cook the casserole as directed in the recipe. Allow the casserole cool, then wrap it tightly, first with plastic wrap, then with foil. Then, store it into the freezer for an easy meal prep breakfast or dinner. The cooked casserole will keep well in the freezer for up to two months.
Varying breakfast casserole cook times
I know 25 minutes on high pressure seems like a long time for this breakfast casserole to cook, but keep in mind that it's a hands-off cooking process so you can essentially set it and forget it. If you like your eggs more well-done, I recommend a cook time of 30 minutes. If you like runnier eggs, opt for 20 minutes cook time.
Can this recipe be doubled?
I would not recommend it. The cake pan only fits so much and you don't want the ingredients to overflow. If you have a larger Instant Pot like the 8 quart then you could buy a larger cake pan and add a few more toppings and up to 3 or 4 more eggs so this way you can feed a slightly larger crowd.
I would recommend just taking the extra time to make the breakfast casserole twice though if you have many people to serve. Or do what I have done and buy an extra Instant Pot! It's so handy for making multiple things at once!
Other Instant Pot Casseroles
If you enjoy this breakfast casserole recipe and you want more family-style meal ideas, then check out these other recipes:
Meal prep tools for this recipe
Instant Pot Breakfast Casserole
This Best Ever Instant Pot Breakfast Casserole is the EASIEST way to make breakfast in your Instant Pot - hash browns, bacon, peppers and all!
Print
Ingredients
8

slices

bacon, cooked

1/2

tsp

each salt & pepper

10

eggs

1

cup

water

cooking spray or butter, for greasing

2

cups

frozen hash browns

1

small

red onion, diced

1/2

each

red, green and yellow bell pepper, diced

1

cup

shredded cheddar cheese
Instructions
In a large skillet, cook bacon until almost fully cooked. Meanwhile, whisk eggs and salt & pepper together in a large bowl.

Grease a 6x4 cake pan (the one I have is linked above the recipe card) with butter or cooking spray. Add hash browns, cooked bacon, bell peppers, red onion, cheese and eggs, mixing to combine gently.

Add water to bottom of Instant Pot then place trivet inside. Place cake pan on top of trivet inside Instant Pot. Place lid on Instant Pot and make sure valve is set to seal. 

Press the pressure cook button and set to high, then cook for 25 minutes. Instant Pot will take about 10 minutes to come to pressure then pressure cook the 25 minutes.

Allow the pressure to release naturally (about 10-15 minutes), then open the lid when pressure gauge has dropped and the lid opens easily. Let cool about 5-10 minutes.

Remove cake pan with oven mitts and serve in slices. Enjoy!
Video
Nutrition
Calories:
276
kcal
|
Carbohydrates:
11
g
|
Protein:
14
g
|
Fat:
19
g
|
Saturated Fat:
8
g
|
Cholesterol:
234
mg
|
Sodium:
325
mg
|
Potassium:
303
mg
|
Fiber:
1
g
|
Sugar:
1
g
|
Vitamin A:
445
IU
|
Vitamin C:
5.4
mg
|
Calcium:
141
mg
|
Iron:
1.7
mg